Jurassic World: Camp Cretaceous' Season 5: Netflix Renewal Status & What We Know So Far
by Jacob Robinson @JRobinsonWoN
Published on December 6th, 2021, 9:03 am EST Share Tweet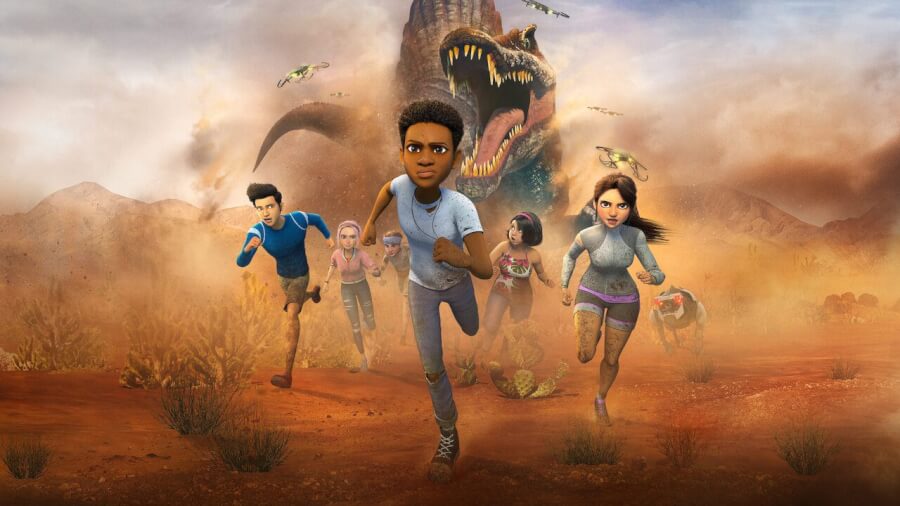 After another exciting season of Jurassic World: Camp Cretaceous, subscribers are chomping at the bit to find out what's in store for the campers in season 5. However, we're waiting for Netflix to make an announcement on the future of Camp Cretaceous, which we expect will arrive very soon. Below is everything we know so far about Jurassic World: Camp Cretaceous season 5.
Set in the cinematic universe of Universal's Jurassic World, Camp Cretaceous is the first spin-off series we've seen since Jurassic World debuted in cinemas in 2015. Incredibly successful in its own right, the series has amassed a great fan following on Netflix and was even the recipient of the 48th Annie Award for Outstanding Achievement for Animated Effects.
With the release of season 4, Jurassic World: Camp Cretaceous now has a total of 37 episodes. The first four seasons arrived between September 2020 and December 2021:
Season 1 arrived on September 18th, 2020
Jurassic World: Camp Cretaceous Season 5 Netflix Renewal Status
Official Netflix Renewal Status: Pending (Last Updated: 06/12/2021)
At the time of writing Netflix hasn't made a decision on the future of Camp Cretaceous, however, we're certain a renewal is guaranteed. Not only has the animated series been extremely popular with Netflix subscribers, but the series has also played a key role in the wider narrative of the Jurassic World story by filling in the gaps between the movies.
Jurassic World: Dominion, the next movie of the franchise, is due to be released in June 2022. This means we can expect to see at least one more season of Jurassic World: Camp Cretaceous before the summer.
Does Jurassic World: Camp Cretaceous need a fifth season?
Just like the previous three seasons, season 4 also ended on a cliffhanger.
Despite mentioning him numerous times throughout the series, we'd never seen Kenji's father. That is until the big reveal of season 4 that Kash's boss is Kenji's father, with the latter shocked to come face to face with his son.
---
What to expect from Camp Cretaceous season 5
Will Kenji side with his father?
Throughout the series, it's been made clear that Kenji's father is an extremely busy man and has been absent throughout most of Kenji's upbringing. However, that doesn't mean it won't be extremely hard for Kenji to choose a side in the conflict of season 5.
As Kash's boss, and the mastermind behind the experiments being conducted on the dinosaurs, this revelation will be devasting for Kenji, who likely had no idea what his father was doing.
Kenji has proven himself to be a good person, brave, and an extremely loyal friend to the other campers. But Kenji's resolve will be pushed to the absolute limit if he has to fight against his own father. We'll likely see Kenji's father try to manipulate his son to switch sides, but Kenji will come through in the end and try to stop any nefarious and dastardly plans his father has.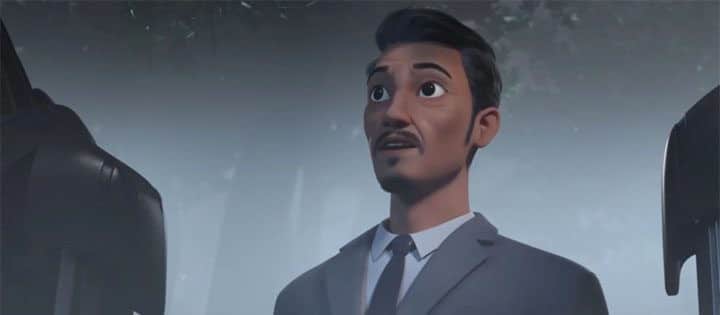 Will Brandon find Darius?
Darius was able to get hold of Kash's phone and used it to phone his older brother Brandon. However, Darius was only able to say hello before Kash hung up the phone. We later saw Brandon pack a bag, stating his intent to find his little brother. It's unclear if GPS was active and Brandon can find the island, but it's clear he is determined to find Darius and bring him home.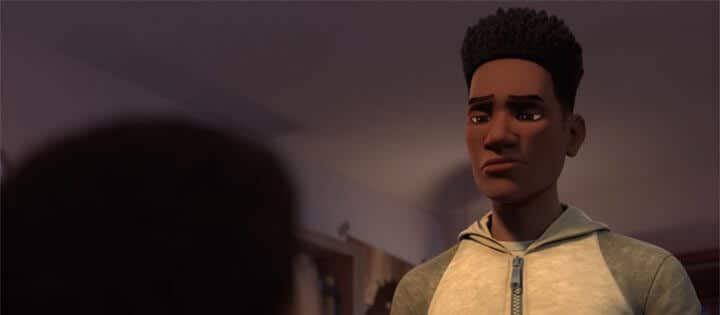 What will happen to the dinosaurs on the island?
Ingen and Masarani were once the exclusive owners of Dinosaur DNA, but thanks to the events of season 4 we now know this is no longer the case. Mantha Corp now has access to Dinosaur DNA from some of the Dinos of Isla Sorna, and they are funding Kash's research into aggressive dinosaurs that can be controlled and manipulated into fighting each other for the purpose of high roller gambling.
Assuming that Mantah Corp can be stopped, will the campers somehow free the Dinosaurs from the mysterious island?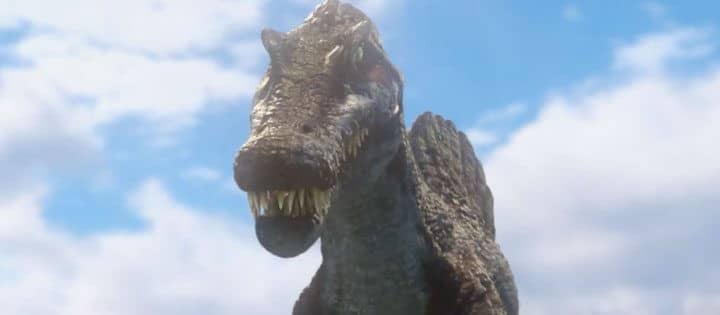 ---
When will Jurassic World: Camp Cretaceous season 5 be released on Netflix?
Thanks to the release of the previous seasons of Camp Cretaceous, we can speculate on the season 5 Netflix release date.
From September 2020 to May 2021, three seasons of Camp Cretaceous were released. The fourth season then arrived in December 2021. This means the shortest time between seasons was four months, and the longest was seven.
At the earliest, we can expect to see season 5 released on Netflix in April 2022. We'd be surprised to see season 5 arrive in July 2022 as this would mean the next season would land after the release of Jurassic World: Dominion
23 December 2021
by Sandy Schaefer
Fresh off finishing post-production on "Jurassic World: Dominion," director Colin Trevorrow is preparing to take audiences on another (sort of) prehistoric sci-fi adventure in the form of a movie about Atlantis. Trevorrow will direct from a script penned by Dante Harper ("Alien: Covenant"), based on a story Trevorrow co-wrote with Matt Charman ("Bridge of Spies").
Most stories about Atlantis depict the mythical city as a technologically advanced civilization that sunk to the depths of the ocean due to its leaders' hubris. As with any tale, factual or not, about an ancient society that collapsed as a result of its people's arrogance,…
The post Colin Trevorrow On His Upcoming Atlantis Film: 'It's The Only Thing That Equals Dinosaurs for Me' appeared first on /Film.See full article at Slash Film »
22 December 2021
by Amie Cranswick
While we're yet to see a trailer for Jurassic World Dominion, we've had a five-minute prologue short film and a couple of first look images featuring Chris Pratt's Owen Grady and Bryce Dallas Howard's Claire Dearing in the past few weeks, and now Empire has unveiled another new image from the sixth instalment in the […]
The post Chris Pratt is chased by an Atrociraptor in Jurassic World Dominion image appeared first on Flickering Myth.See full article at Flickeringmyth »
18 December 2021
by Amie Cranswick
Entertainment Weekly has unveiled a new image from next year's Jurassic World Dominion, which features Chris Pratt's dinosaur whisperer Owen Grady, who – after the climactic events of Fallen Kingdom – is now putting his skills to use protecting the prehistoric creatures from mankind. "They have been multiplying and living amongst us and clashing with […]
The post New image from Jurassic World Dominion features Chris Pratt's Owen Grady and a Parasaurolophus appeared first on Flickering Myth.See full article at Flickeringmyth »
UNIVERSAL'S 'JURASSIC WORLD: DOMINION' ON COURSE TO BE FIRST MAJOR STUDIO MOVIE BACK UNDERWAY IN UK, DETAILED SAFETY PROTOCOLS REVEALEDREAD MORE2/15/2019LEGO JURASSIC WORLD: LEGEND OF ISLA NUBLARUniversal Brand Development and the LEGO Group Create New Jurassic World AdventuresREAD MORE11/26/2018JURASSIC WORLD SURVIVAL KITREAD MORE10/31/2018VILLAINS OF THE FRANCHISEREAD MORE10/18/201810 BEST SCREAMS IN THE JURASSIC WORLD FRANCHISEREAD MORE
10/1/2018SCARE UP SOME HALLOWEEN THRILLS WITH JURASSIC WORLDThanks to Jurassic World, dinosaurs now roam the earth—and that includes the trick-or-treaters in your neighborhood.READ MORE
HEADER SOCIAL MEDIA MENU
UNIVERSAL'S 'JURASSIC WORLD: DOMINION' ON COURSE TO BE FIRST MAJOR STUDIO MOVIE BACK UNDERWAY IN UK, DETAILED SAFETY PROTOCOLS REVEALED
Jurassic World 3 director confirms its place in the timeline
Jurassic World: Dominion director Colin Trevorrow has detailed when exactly his upcoming blockbuster takes place in the franchise's timeline.
© Getty Images Jurassic World 3 director Colin Trevorrow has confirmed when his trilogy-closer is set in the overall timeline.
Previously labelled the "culmination" of the entire Jurassic Park series, this sequel trilogy closer follows 2018's Fallen Kingdom, which faded to black with humanity poised to live side-by-side with escaped dinosaurs.
Chatting to Screen Rant, Trevorrow delivered a rather unsurprising update concerning Dominion's spot in the overall story.
© Getty Images Colin Trevorrow Jurassic World 2
Related: Jurassic World 3 unveils first look at its epic opening
"Everything in my mind has always been pretty much present-day," the filmmaker said.
"So [Battle at] Big Rock took place a year or so after Fallen Kingdom in 2019, when it came out, and the T-Rex has just been out in the Sierra Nevada forest where they all escaped to.
"It's absolutely massive; it's a whole section of the state. And so she's just been living in there; they've been struggling to catch her for a very long time.
"So this is about four years later – it's when the movie comes out, so 2022."
© Universal Owen Grady and T-Rex in Jurassic World: Fallen Kingdom
Related: Marvel's Chris Pratt responds to calls for Jurassic World and Fast & Furious crossover
For Dominion, Chris Pratt returns for the third time as Owen Grady alongside co-stars Bryce Dallas Howard, Jake Johnson, BD Wong, plus franchise icons Jeff Goldblum, Sam Neill and Laura Dern.
Jurassic World 3 has a release date of June 10, 2022.
The 39-year-old man was reported missing by his family
His body was discovered Saturday afternoon
A man and his son noticed foul smell emanating from the statue
The man also saw a human body through a crack in the statue
The police are awaiting an autopsy report to determine the exact cause of death
NYC Police Search For Suspect After AttackPlease approve cookie policy in order to watch the videoNYC Police Search For Suspect After AttackPauseNext video0:00 / 0:00SettingsFull-screen
Spanish police are investigating the death of a 39-year-old man whose body was found inside a dinosaur statue hours after he was reported missing.
The officials were alerted Saturday after a man and his son noticed something inside the statue in the Santa Coloma de Gramenet suburbs of Barcelona in Spain.
The man and his son noticed a foul smell emanating from the papier-mâché figure of a Stegosaurus placed outside a building. The father also noticed a human body through a crack in the statue's hollow leg and alerted the authorities.
The police believe that the man had got trapped inside the statue while he was trying to retrieve his mobile phone that he had dropped; he probably entered head first and couldn't get out. The police said they do not suspect any foul play.
"It's an accidental death; there was no violence," The Guardian reported a police spokeswoman as saying.
"This person got inside the statue's leg and got trapped. It looks as though he was trying to retrieve a mobile phone, which he'd dropped. It looks like he entered the statue head first and couldn't get out," she added.
Officers called firefighters to cut open the statue and recovered the body. The deceased man was reported missing by his family a few hours before his body was found inside the statue.https://frontend.1worldonline.com/widget/smart3-18285d0c.html#!/widget/ed1e1abb-3e70-413c-b1b3-a7bf538ab7b7&type=widget&code=ed1e1abb-3e70-413c-b1b3-a7bf538ab7b7&mode=smart3&token=ed1e1abb-3e70-413c-b1b3-a7bf538ab7b7-1&location=https%3A%2F%2Fwww.ibtimes.com%2Fman-died-trapped-inside-dinosaur-statue-spain-while-trying-retrieve-dropped-phone-3207689
"We're still waiting for the autopsy results, so we don't know how long he was in there, but it seems he was there for a couple of days," the police spokeswoman added.
The authorities have removed the decorative statue which was placed outside a city building where it had been used for advertising an old cinema, BBC reported.
Representational image. A dinosaur statue is seen standing in front of the Turkey Point Nuclear Power Plant in Homestead, Florida, on May 18, 2017. Photo: Rhona Wise/AFP/Getty ImagesRELATED STORIES